As the most straightforward indicator in capturing research quality, publication and citation numbers are always discussed intensively, especially in Indonesia's academic communities. This concern has boosted the number of papers published by Indonesian scientists since 2014. The Indonesian government has paid a lot of attention to increasing published papers by many program schemes and incentives. In the ASEAN region, Indonesia takes first place in terms of published paper productivity in both journal and international proceeding indexed by Scopus. Indonesian scientists' euphoria may raise the productivity ranking from the fourth position below Thailand in 2014 to be first in 2018 [1]. This number befits the Indonesian scientist and academia's population as one of the biggest among other ASEAN countries. The productivity ranking is kept maintained by the scientist and academia; even the gap between Indonesia and Malaysia (second liner) becomes larger in 2019.
During the COVID-19 pandemic in 2020, the Indonesian scientific communities are able to sustain their productivity. Before the pandemic, more than 50% of Indonesian scientists' papers are published in international conference proceedings. The publication in the proceeding can give at least two benefits; first, the conference event provides scientists a chance to communicate and endorse their research results directly or even discuss potential research collaboration. Second, publishing in international conferences is considered more convenient than in international journals due to the minimal reviewing process. The conference event may encourage the scientist to practice their skill in producing research results and writing papers. However, since pandemic happens in 2020, the number of international conference events drop significantly. Some organizers try to swift the conference event to be an online meeting, but this might not effectively attract scientists due to the minimal and less-engaging interaction.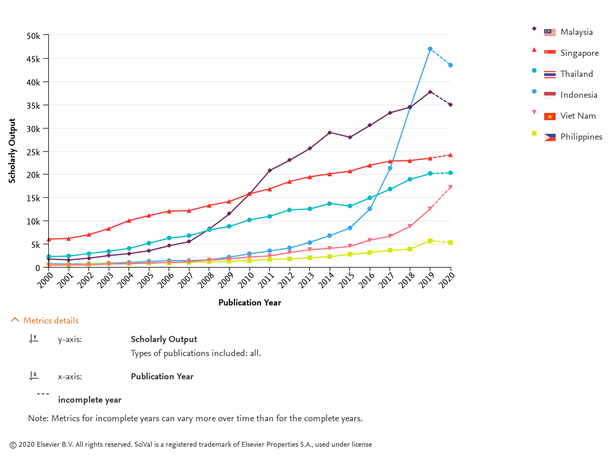 The pandemic has successfully held back the growth of publication numbers in Indonesia. In 2020, a number of publications in Indonesia is in stagnant condition. This fact might still need to be grateful for because there is only a shortfall in the publication number. The saturated number of publications occurring in 2019 has been predicted by Nandiyanto et al. [2]. The effect of publication incentives and rewards from the government has reached its limit. There should have a novel policy to ensure the number of publications to keep growing. Yet, considering Indonesia's scientist and academia population, the number of published papers per scientist of Indonesia is still relatively small compared with the ASEAN countries.
Even though the number of 2020 published papers in Indonesia will be similar to the number in 2019, the writing quality may increase significantly. The pandemic allows scientist to submit their research results in an international journal indexed by Scopus, DOAJ, or Sinta. This may happen because international conference events providing proceeding publication will drop significantly. By implementing the rigorous reviewing process, the published paper's quality is expected to be much better and will correlate with the citation number. Unfortunately, although the publication number increases significantly, the paper's citation number is remaining small. For example, based on SJR data in 2019, Indonesia is ranked 21st for published paper number but only 219th for citation per paper [3]. This fact has become a big issue for scientific communities in Indonesia. The low citation number indicates that Indonesian scientists' research results still do not impact the academic world. The distinctive contribution of research results in Indonesia is usually localized and for domestic issues. A minimal number of Indonesian scientists research a fundamental problem or cutting edge issue.
Furthermore, the number of research collaborations conducted by various affiliations of paper authors is also considerably small. The Indonesian government must recognize this issue to create an effective policy that heat up research environment. The citation number has become a primary indicator for world ranking universities, which has always become the government's attention to have globally respected universities in Indonesia.
References
[1] https://scival.com/benchmarking (accessed on December 23, 2020)
[2] Nandiyanto AB, Biddinika MK, Triawan F. How bibliographic dataset portrays decreasing number of scientific publication from Indonesia. Indonesian Journal of Science and Technology. 2020;5(1):154-75.
[3] https://www.scimagojr.com/countryrank.php?year=2019&order=it&ord=desc (accessed on December 23, 2020)